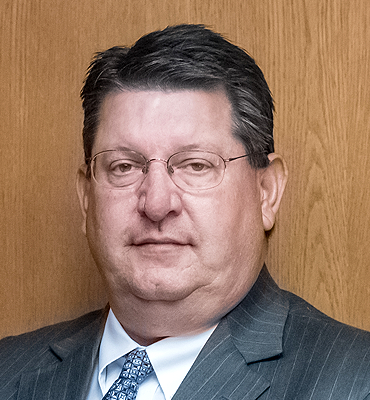 Mr. Crews was born and raised in the small rural Morgan County town of Chapin, Illinois, and currently resides in Winchester, Illinois, with his wife, Laurie, and his son, Eli.  He attended and graduated from Triopia High School and later served four years in the United States Army before graduating from Sangamon State University.  Following his graduation from Sangamon State University, Mr. Crews was accepted and enrolled in law school at the University of Tulsa where he received his juris doctor in December, 1994.  Mr. Crews was an Assistant State's Attorney in Sangamon County and served as Morgan County Public Defender from 1998 through 2004. In 2004, Mr. Crews became a partner in the law firm of Thomson, McNeely, Crews & Thielen, P.C.
Mr. Crews' area of concentration are
Family mediation
Criminal law
Personal injury
Workers' compensation
Estate planning
Probate
Mr. Crews is a licensed mediator in the area of family law regarding visitation, etc.
Mr. Crews is a member of the Morgan County Bar Association, Illinois State Bar Association, American Legion and the Winchester United Methodist Church.
Mr. Crews has served his community by serving on the boards of Big Brother/Big Sister and the Jacksonville Elks Club where he was the Exalted Ruler from April, 2007 to March, 2008.